SEO – Unethical Backlink or "Link Schemes" is Bad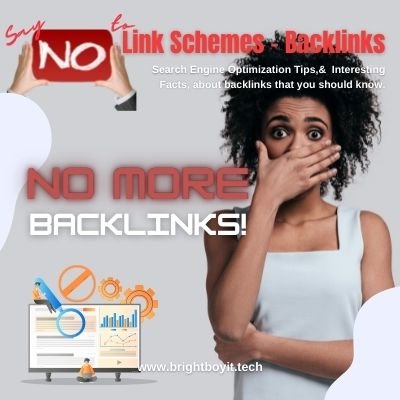 SEO – Unethical Backlink or "Link Schemes" is Bad
As per Google Say "No" to "Link Schemes"
When it comes to Backlinks What Are Google Approved Link Schemes or is "Link Scheme" now have a totally new different meaning in the SEO world because of Google?
You may be wondering what exactly is approved "link scheme" by Google – Below you will be informed on all there is to know about good and bad link schemes.
We've all heard of Google a very popular search engine and technology company dominating online search that rules the SEO world. Not only is Google used for searching but many people use Google to promote or generally advertise their business to bring in more clientele or to just get their business name out there to the public. The majority of business owners want their business to be in the high rankings on the SERP or to show up more in the organic search result. To do this, almost every business that has an online presence will want to have backlinks to its website or business page hoping to increase its visibility and ranking. The question is, how effective are backlinks really? This is where "link schemes" by Google come in (a.k.a backlinks).
Link schemes are said to be an unethical practice for businesses (as per Google) to generate a higher rank in the search engine when it is done un-natural which is triggered by non-organic and unethical behaviors. Many companies are buying from folks who are selling links for backlinks in order to get that higher ranking in the Google search results. These Links schemes are banned by Google because they manipulate the PageRank (PR) which is considerable terms ranks websites by importance and uses an algorithm. Google uses PageRank in its search engine. Exchanging money or services is not allowed and is considered a "link scheme", as for excessive link exchanges and using any automated programs to create links to your site.
The term "unnatural links" is also used when discussing "link schemes". Unnatural links are links that aren't created by the business/website owner, unnatural links should not be used because they violate Google's guidelines.
The best and most ethical way to get your business or neighboring business out there and gain credible backlinks is to create good advertisements, social media presence, and more relatable content so that consumers can naturally gravitate towards your business. In the end, it's best to stay away from companies or businesses using "link schemes".